Duro-Last
Duro-Last PVC Roof System
Duro-Last vinyl roof membrane is a proprietary thermoplastic formulation consisting of PVC resins, plasticizers, stabilizers, biocides, flame retardants and U.V. absorbents. A weft-insertion knitted scrim that is laminated between two layers of PVC film gives the membrane its strength and durability. The Duro-Last single-ply membrane is available in white, gray, dark gray, tan, or terra cotta.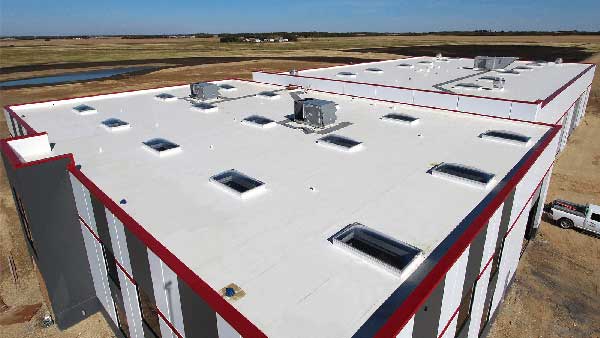 Duro-Last flexible roof membrane is easily prefabricated into deck sheets up to 2,500 square feet, as well as custom-made parapet, stack, and curb flashings that eliminate most labor from critical roof areas – transitions and changes of plane.  Prefabrication provides architects, consultants, contractors, and building owners peace-of-mind regarding the watertight security of the roof installation. 
Duro-Last has met or exceeded all major fire and wind code requirements, and regional approvals as necessary throughout the country. These certifications reinforce Duro-Last's leadership in providing the consistent, watertight integrity that building owners expect.
Duro-Last is proud to be a charter partner of the ENERGY STAR® Roof Products Program. The ENERGY STAR label indicates to building owners and managers that the Duro-Last white vinyl roof membrane can save them money on cooling costs due to its high reflectivity (reflects 88% of the sun's energy). Duro-Last is also a charter member of the Cool Roof Rating Council (CRRC) and a member of the United States Green Building Council (USGBC). Duro-Last participates in all major technical committees in the roofing industry, plus the American Society of Testing Materials (ASTM).
Duro-Last Roofing Warranty
Duro-Last is so confident in their roofing systems that they protect commercial and industrial installations with the best warranties in the industry. The standard, comprehensive 15-year No Dollar Limit (NDL) warranty is transferable, has no exclusions for ponding water, and provides coverage against consequential damages that result from defects in the Duro-Last material and/or installation workmanship. Duro-Last also has 20-year warranties available.
Want to learn more about how Alliance Roofing, LLC is the leader in Duro-Last? Contact us today at (404) 932-5260 or complete this form.